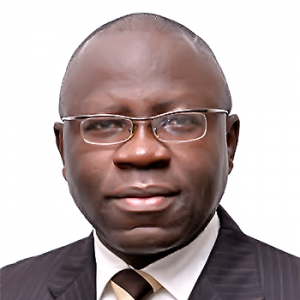 MR. OLUWOLE OLOLADE ADEOSUN is the Managing Director/Chief Executive Officer of Chartwell Securities Limited. Chartwell Securities Limited is registered by the Securities and Exchange Commission as a Broker/Dealer firm and an Issuing House. He was the Chief Executive Officer of Intercontinental Securities Limited from 2000 -2007. Prior to this, he held various senior positions in Intercontinental Bank Plc between 1991 and 2000 as Head Corporate Finance; Group Head, Investment Banking and Group Head, Corporate Banking. As a capital market professional, he was involved in the packaging and execution of major capital raising issues, mergers and acquisition mandates and debt conversion transactions in the Nigerian capital market before and after the universal banking era.
He served as a pioneer member of the Governing Council of the Federal Government promoted Abuja Securities Exchange (now National Commodity Exchange) from 2005-2007. He is an active participant in the affairs of Association of Stockbroking Houses of Nigeria and serve on its Legal and Market Development & Technical Committees.
He was elected a Council Member of The Chartered Institute of Stockbrokers in April 2014 and re -elected in April 2017 and serves on several committees notably as Chairman of the Continuous Professional Development Committee, Finance Committee, CIS Building Renovation Committee; Member of The Education Committee and  Disciplinary Tribunal. He served as the Institute's 2nd Vice President between April 2018 & May 2020 and was recently elected in May 2020 as the 1st Vice President.
He serves on the Boards of several companies in and outside Nigeria as Director/Partner – Chartwell Financial Services Ltd; Chartwell Bureau De Change Ltd; Chartwell BDC (UK) Ltd; Chartwell Hub (UK) Ltd; Chartwell Partners (Chartered Accountants); DESWOL Limited.
He was elected a National Council Member of The Nigerian Stock Exchange in September 2017 and has served on several Committees of The National Council – Quotations Committee, Governance & Remuneration Committee , Regulations Committee and the Disciplinary Committee of The Exchange  He currently serves on the Audit & Risk Management Committee and the Technical & Business Committee of The Nigerian Stock Exchange. He was appointed a Non-Executive Director of the Nigerian Exchange Plc, the holding company of the demutualised Nigerian Stock Exchange in March 2020. He is a member of the Capital Markets Committee (CMC) of The Securities and Exchange Commission, Nigeria (SEC).
He is a 1982 product of the prestigious Loyola College, Ibadan and obtained a B.Sc. (Hons) Business Administration degree in 1986 from the University of Ilorin. He worked in First Bank of Nigeria Plc between 1986 and 1987 during his service year. He joined Coopers & Lybrand (now PriceWaterHouseCoopers) in October 1988 and qualified as a Chartered Accountant in May 1991 and thereafter proceeded to the University of Lagos for the Executive MBA (Finance) program which he completed in 1993. He was at the prestigious New York Institute of Finance in 1999 for the flagship United States Capital Markets program. He enrolled for the elite Lagos Business School Chief Executives Program (CEP15) which he completed in May 2006.
He holds a Multiple Professional Registration Status with the Financial Reporting Council of Nigeria and is a Fellow of the following professional bodies – The Institute of Chartered Accountants of Nigeria, Chartered Institute of Bankers of Nigeria, Chartered Institute of Taxation of Nigeria, Chartered Institute of Stockbrokers, Institute of Directors of Nigeria.He is a member of the Society for Corporate Governance, Nigeria. He is a member of Ikoyi Club 1938 and The Lagos Country Club.